Fast, secure, digital payments for real estate.
Eliminate paper checks and risky bank wires from your business at no cost.
Book a Demo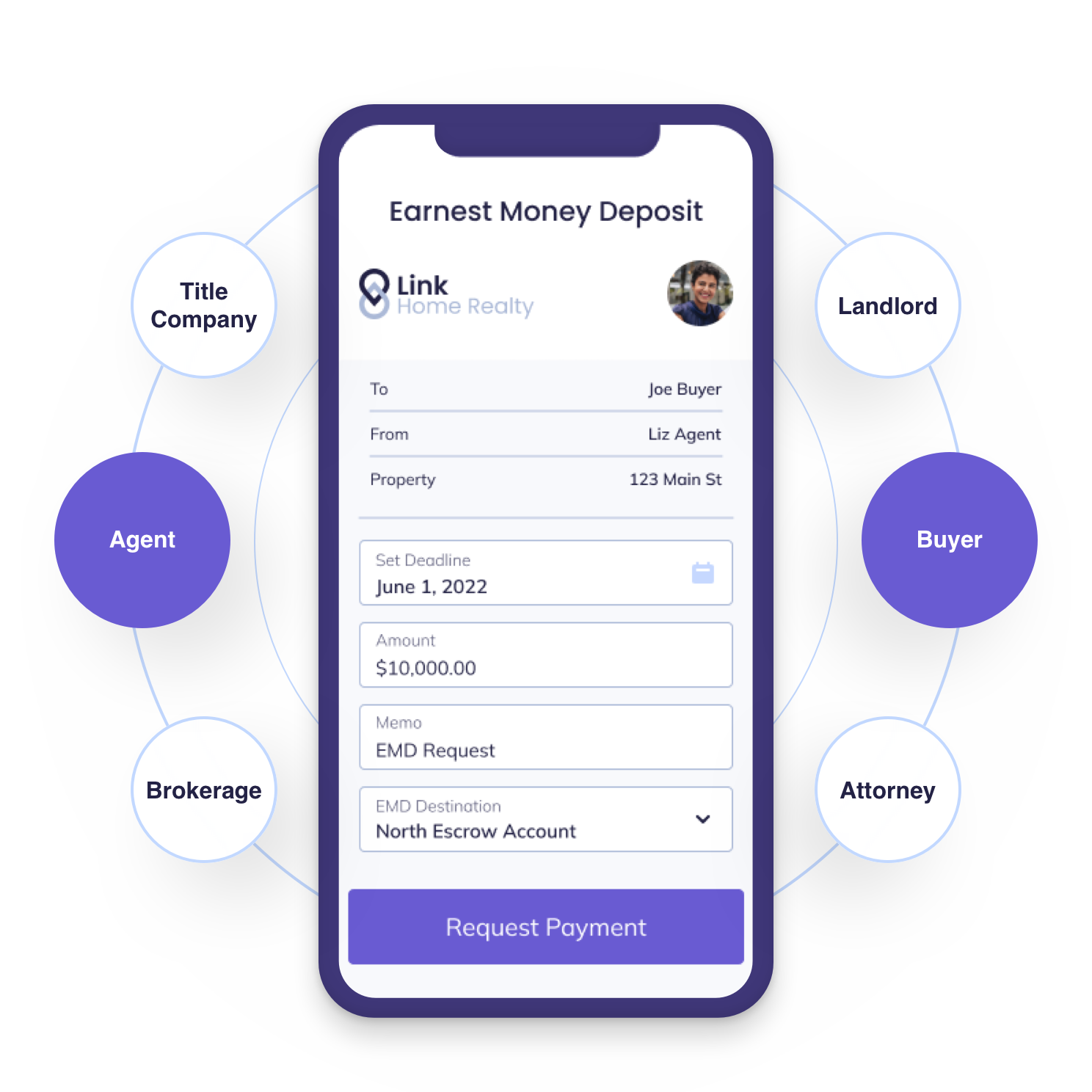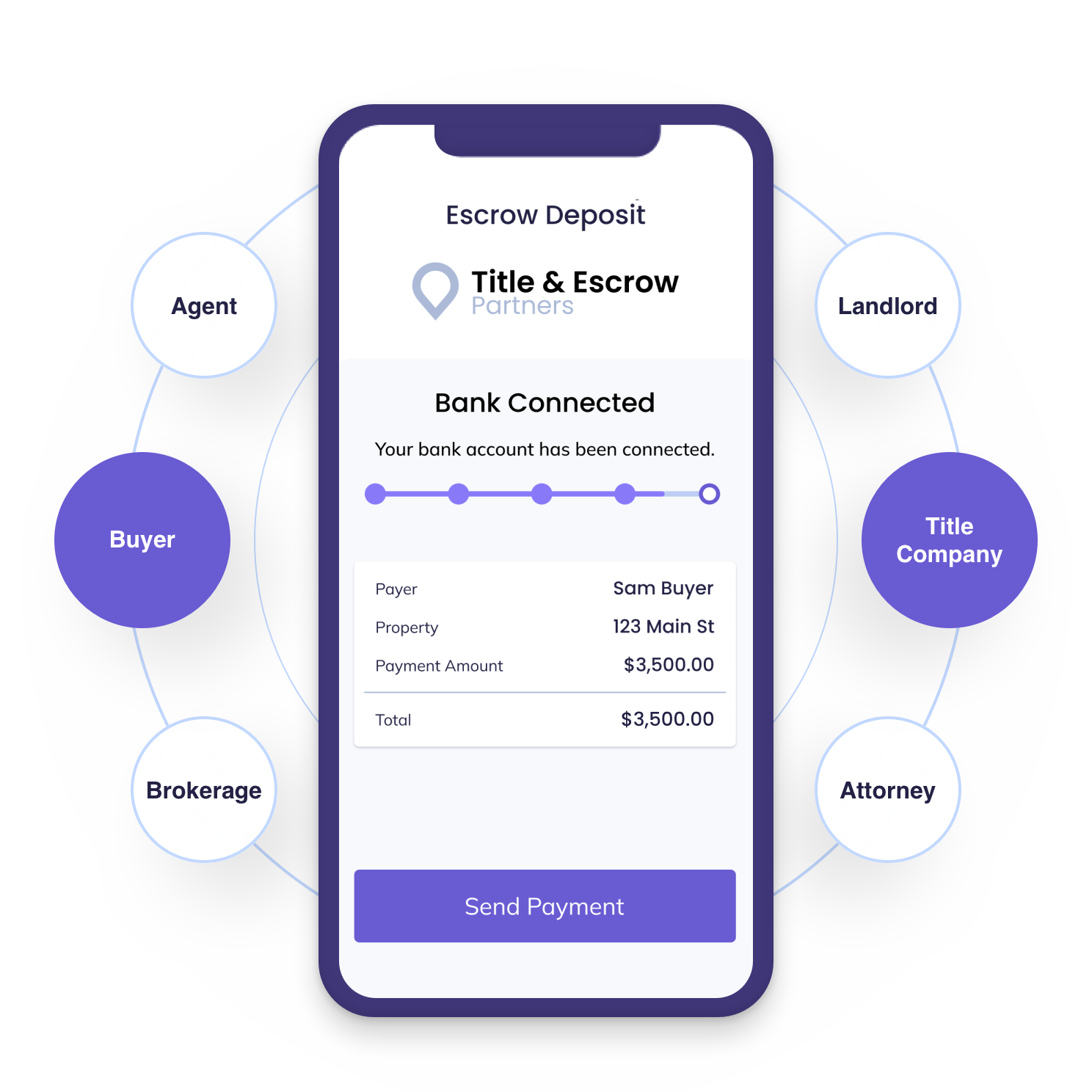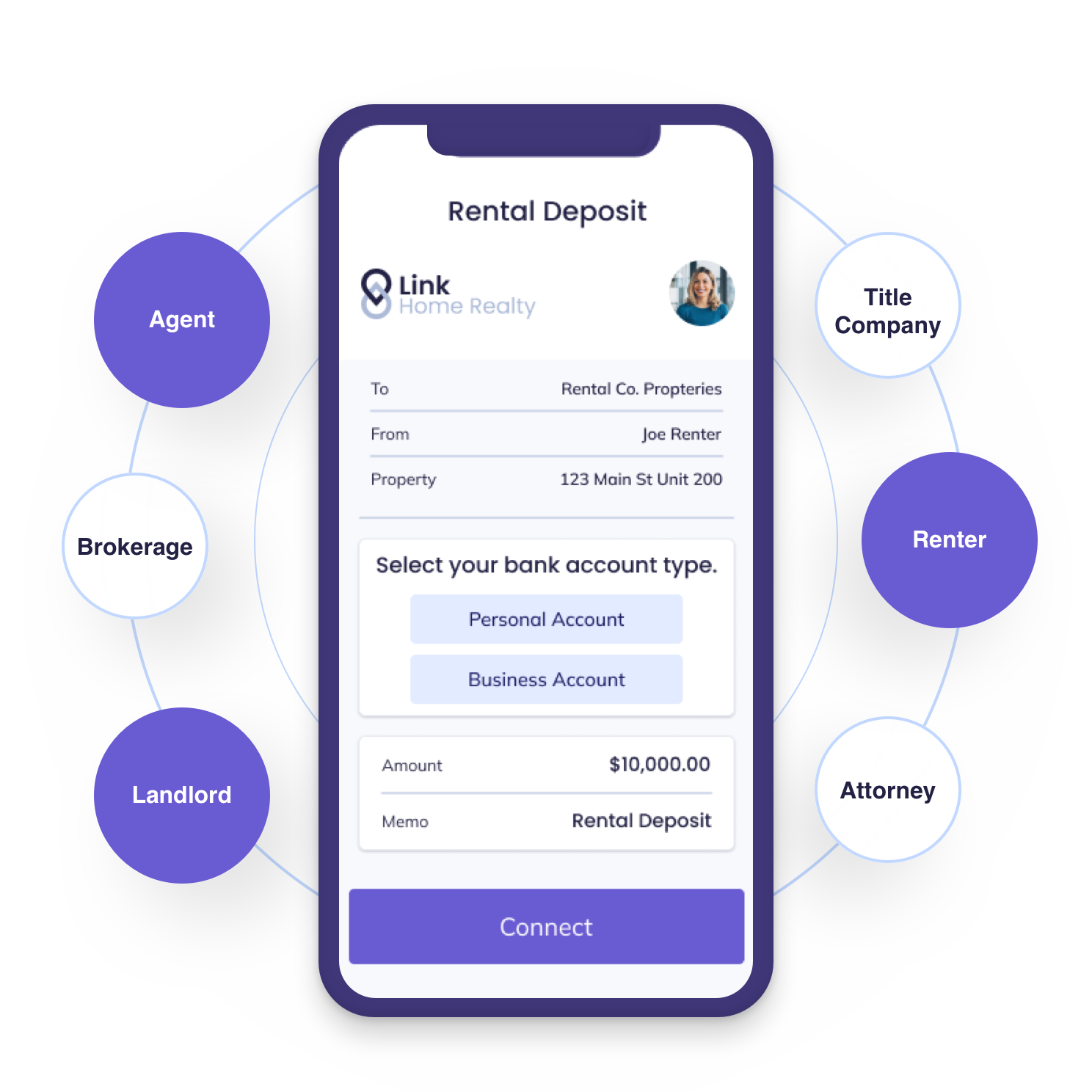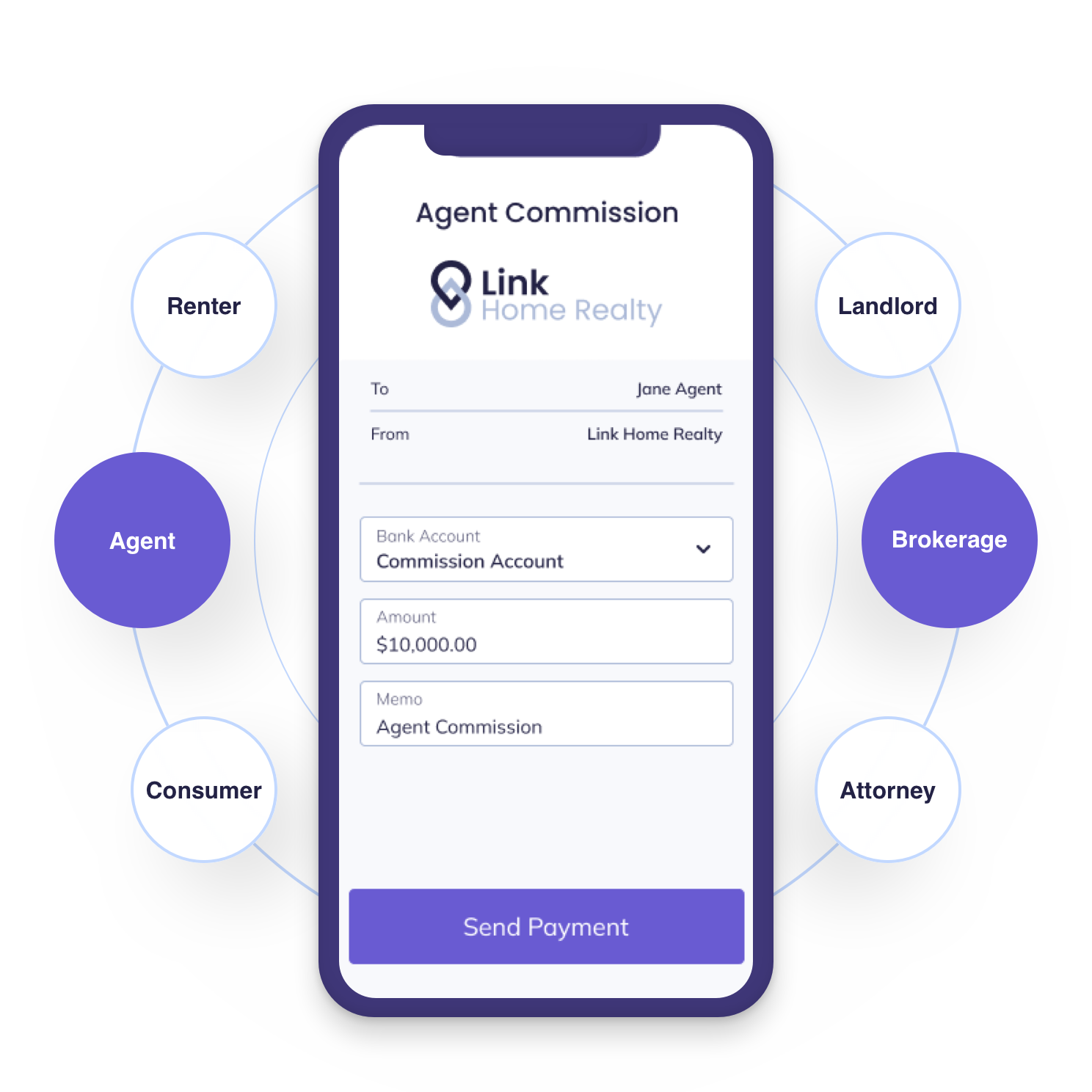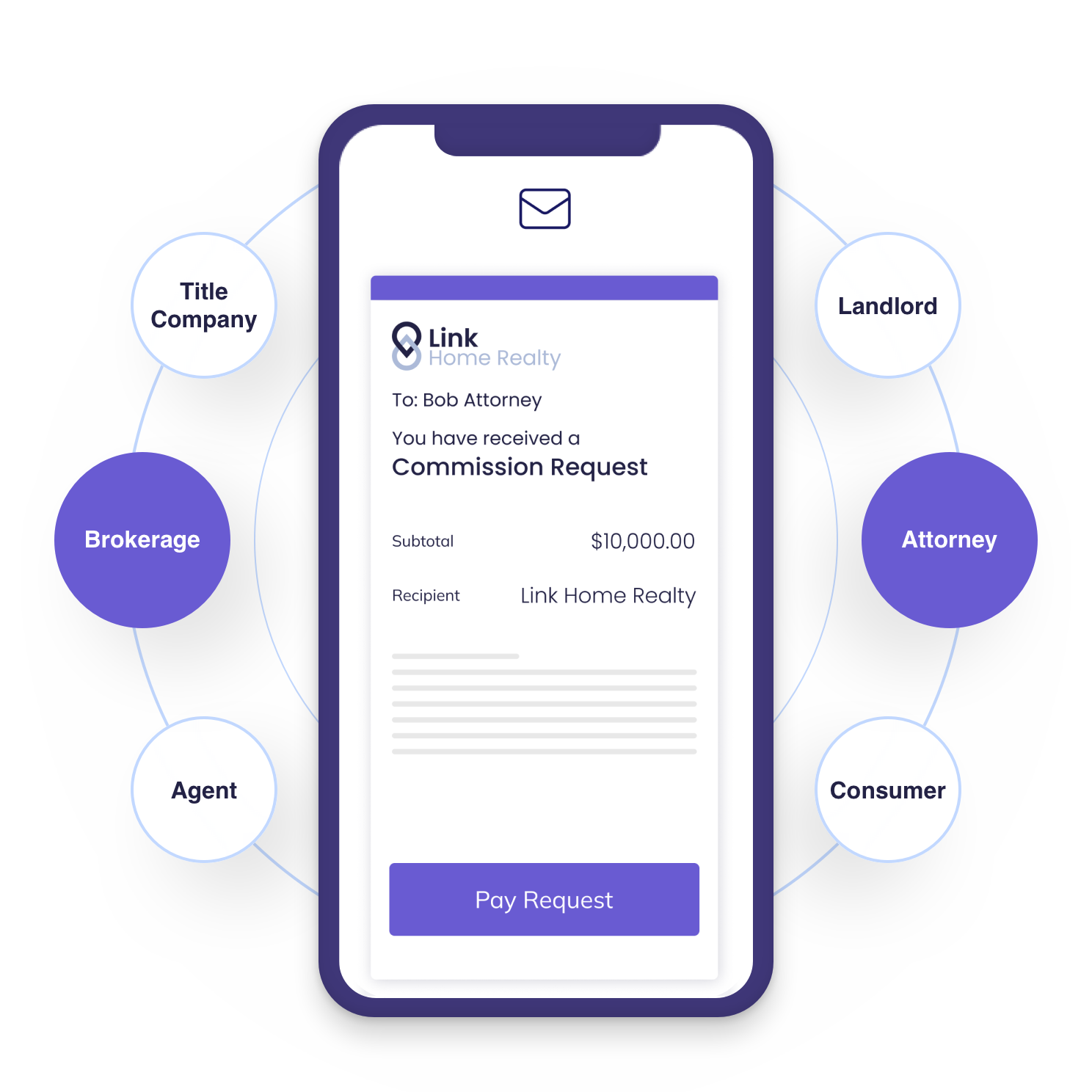 Save time.
Use your smart phone or desktop to request and track earnest money deposits, commissions, and rental payments in minutes, from anywhere.
Built by real estate professionals for real estate professionals.
Powered by 50+ years of real estate experience and a talented team, DepositLink is a game-changer for anyone moving money in the real estate business.
Our Clients.
Here is what real estate professionals and consumers are saying about DepositLink.
"In a quick moving market, DepositLink provides a safe and convenient way to collect deposits. With DepositLink, chasing checks is a thing of the past. DepositLink has helped streamline my business drastically."
COMPASS
Jen Millington
"DepositLink makes it so much easier to get your deposits on your listings and for your buyers. Out of area buyers find the process to be a much more convenient option so they don't have to snail mail the check or drive it to a local office."
BHHS Verani Realty
Jodie Boutwell
"Love the efficiency and communication of DepositLink. As a high level producer, I need to work smart and execute quickly. DepositLink helps me manage my business efficiently."
William Raveis Real Estate
Kristin Fitzpatrick
"The process for setting up and requesting the deposit is very user friendly and quick! Makes it super convenient as well. Being able to log into my DepositLink account to see history and statuses is great."
Keller Williams Coastal and Lakes & Mountains Realty
Julie Davis
"DepositLink has been a huge time saver for me and my team over the last few years. Gone are the days of having to collect physical checks. It's amazing to me there are still brokerages out there not using this."
Berkshire Hathaway HomeServices Professional Realty
Kyle Oberlin
"DepositLink has made the collection of our deposits very quick. Our agents really enjoy it and found it very easy to use."
Lock and Key Realty
Kristina Conant
"I am a realtor who works with clients who live out of state and country, so this is so helpful! I use it all the time!"
RealtySouth
Amanda Dabbs
"So easy and efficient!"
Keller Williams Coastal and Lakes and Mountains
Shannon Casey
"It's super easy to request earnest money and I love that there's a link so I can text it to clients too!"
eXp Realty Illinois
Adam Stary
"DepositLink is a great service overall and I find it very easy to use. Would certainly recommend to other brokerages."
Kingston Real Estate & Management
Sam Jordan
"It is very easy to use for myself and my clients. It saved me from having to meet applicants for deposits."
Keller Williams Merrimack Valley
Debbie Salamone
"We onboarded with DepositLink over a year ago, and it has been awesome! DepositLink is truly simple, fast, and secure. It is a game changer, and we recommend this to any company that prides itself on succeeding."
Foundation Title and Escrow Series, LLC.
Mellissa Fernandez
"DepositLink is fast and easy, making all our transactions efficient and seamless. It's very user-friendly and offers our clients the assurance that their funds will arrive safely. We highly recommend!"
Atlanta Fine Homes Sotheby's International Realty
Chase Mizell, #1 producing individual real estate agent in Georgia
"Absolute game-changer! Excellent user experience and great customer service. Clients and co-brokes love the convenience!"
William Raveis Real Estate
Erin Feeney
"I love DepositLink. It Saves me so much time on all my real estate transactions."
Century 21 Cityside
Franshellys Tejeda
"DepositLink has completely and positively changed our method of receiving payments. As a busy rental office, we take in a significant amount of payments daily. With DepositLink, we save time processing payments and our customers appreciate the ease and convenience."
Metro Realty
Ryanne Nixon
"DepositLink has accelerated and streamlined the collection of funds from our customers."
Apartment Rental Experts
Jay Wylie
"Using DepositLink has been one of the best business decisions I've ever made. It's simple, secure, and efficient. Our agents love it, our accounting staff are thrilled to use its sophisticated reporting platform, and our clients are relieved from the burden of having to write checks or send bank wires. DepositLink is the future for moving money in real estate."
Atlanta Fine Homes
David Boehmig, Broker and CEO
"The experience has been great! It's fast and easy."
Douglas Elliman Real Estate
Monica Penaranda
"Excellent (support)! Answered my question promptly and professionally. Went a step beyond and sent me an info sheet for my future reference, even stayed on the phone to make sure I received his email. Very satisfied."
CENTURY 21 Crowe Realty
Agent
"The DepositLink support team is the BEST! Always very helpful and ready to support our agents and clients right away! Thank you so much for all your support and thank you for this amazing tool!"
Compass
Admin
"Support is top-notch! Any issues I ever had (which have been few) are quickly resolved."
William Raveis
Agent
"Absolute game-changer! Excellent user experience and great customer service. Clients and co-brokes love the convenience!"
William Raveis
Agent
"Amazing service! The team worked extremely fast to make sure my issue was resolved. They were quick to answer my call, very personable, and always available for anything I needed. I would highly recommend it!"
COMPASS
Nikki Cappadona
"The team at DepositLink has been instrumental in helping our agents and clients navigate the home buying process so much easier and safer! We couldn't have prospered quite as well over the past 18 months without their technology and team."
Atlanta Fine Homes
David Boehmig
"DepositLink has been great and SO easy! When I came on, there wasn't an option for the escrow check to be held by anyone other than the attorney (that's not customary in my market). I was happy when this option came, and all my clients who have used it seem to have no problems with it."
eXp Realty New York
McKenzie Kelly
"I love it. It was very easy. I especially love the option to add email addresses. This way lender, agent on other side, all get notified. Clients didn't have any problems either!"
eXp Realty
Rachel Lopez
"Using DepositLink was effortless, convenient, and super easy. Buyers were thrilled they did not need to drive to our office to drop off a check!"
Leading Edge Real Estate
Lauren O'Brien
"I had a great first experience! At the start, I had a question that customer support addressed very quickly. I was pleasantly surprised when the selling agent didn't need to call me with any questions. He had no trouble getting it to the buyer and the buyer had no questions about the process either! Thanks for making it so simple!"
ERA Key Realty Services
Kathy Divine
"I recently used DepositLink for the first time and it was great! The buyer lives out of state, so it really simplified the transaction; no running around trying to secure deposit checks. This was really one of the last obstacles that we faced in making our transactions quick and easy."
Leading Edge Real Estate
Peter Pirani
"It's great, easy, cheaper than others I've used. I'm happy I used it. Sharing the receipt with everybody involved in the transaction is great. I don't have to follow up or remember I have to send it to others."
eXp Realty Ohio
Meralis Marcano
"I've worked with a lot of customer service agents from different companies, but this representative really knocked it out of the park. He knew exactly what I was talking about. His attitude was excellent. I wish everyone was like this."
DepositLink User
"What awesome service at a time when I thought I would not get a response until morning. Thanks!"
DepositLink User
"The ease and convenience of DepositLink is not only time-saving, but it is also another reason my business thrives."
Leading Edge Real Estate
Debbie Miller
"Many companies have automated tech support. To receive a phone call from your company to help with my client's first experience was SO appreciated!"
DepositLink User
"DepositLink is so simple and safe. My clients love the convenience. It will be my go-to for all transactions going forward."
The Cape House, William Raveis Real Estate
Katie Clancy
"Customer service rep was fantastic. He was relentless in following up and resolving my issue. It was a time-sensitive transaction, and his work saved me from a stressful situation."
DepositLink User
"We have found DepositLink to be a product that was perfectly timed for today's consumer-centric environment! This tool is focused on helping to create more conveniences in a real estate transaction. Our customers and clients love the ease of making deposits using this tool. We initially felt we might have some reluctance from our agents, but it has really taken off."
ERA
Cheryl Taylor
"I used DepositLink for the first time today. All I have to say is YES! So easy to use, such a time saver, and seriously simple. My client loved being able to use it in only five minutes. No more checks, no more wasted time for all involved. I especially loved the follow-up email letting you know exactly what is going on without all the extra time spent on the phone or emailing parties. Thank you for bringing real estate up to date!"
BHHS Professional Realty
Agent
"The process was great! Everything was easy to understand and all the fields made sense. The client received the email and everything went smooth on his end also. It is a great option, and I plan on using it as much as possible."
eXp Realty Utah
David Carpenter
"That was easy and time efficient. Love it! Really beats delivering checks."
Kelly Homes Group at COMPASS
Colleen Kelly
"DepositLink has saved me, and clients, hours of time. Gone are the days of fighting traffic to drop off a deposit check! I have been extremely impressed with DepositLink's customer service. They are incredibly responsive."
Leading Edge Real Estate
Martha Brown, REALTOR®
"I thought it was super easy! Loved it. I was skeptical because of the fee. My buyer is 45 minutes away and we need EMD deposited NOW. I dreaded opening up a new program and having to navigate but it was actually super simple and only took about 3 minutes. I loved getting an email confirming when funds were received!"
eXp Realty - Mississippi
April Smith
"Game changer for my business. Handled close to $1M in deposits so far this year. Saves considerable time...time better spent on generating business. And the clients love it!"
William Raveis
Julianne Bridgeman
See how DepositLink can help you save time and grow your business.
Book a Demo